Hit the mark with Centershot
Archery outreach programs for churches and their communities
Every local church should make an impact in their community.
We believe that the local church should be equipped to introduce more people to Jesus–regardless of your location or background. Here at Centershot Ministries, we partner with churches like yours to introduce archery as another tool to reach more people.
People frequently ask why archery? Our answer is simple.
It is affordable. 

It levels the playing field. 

It can be done year-round. 

It is completely safe.

It promotes a growth mindset. 

It is fun, exciting, and adventurous.

It promotes fitness and endurance.

It is inclusive of all ages and abilities.
Churches from across the globe are using archery because it's a sport everyone can enjoy. You can, too!

TRAINING
Getting you up and running is all included  

CERTIFICATION
Join a community of 80,000 certified instructors

EQUIPMENT
Get the gear you need to master archery

RESOURCES
Receive tools and ongoing support along the way
1. Become a member
It's easy to process your application and payment
2.

 

Implement your archery program
Access your portal of resources and create your plan   
3. Watch archery make an impact
Offer a valuable program and see it change your community  
Is archery a fit for my church?
Churches are designed to play an important role in their community. In a connected age where isolation still reigns supreme, the antidote for us as people of faith is to foster connection with the people around us. 
Even if it wasn't the first option that came to mind, archery quickly becomes a favorite choice for church leaders with this mindset who are planning their next community outreach program. The beauty is it includes the whole family!
Communal activities–like sports–are designed to bring us together. They enhance strength, patience, and even self-discipline. As you know well, this has been the case dating back to even Biblical times. 
Unlike other sports programs, archery doesn't require lots of equipment and is inclusive of everyone's ability. It's the perfect activity for all age groups. In fact, it's one of the fastest-growing family sports. 
Most importantly, the pace and style of a Centershot Archery Program foster the perfect environment to point people to Jesus.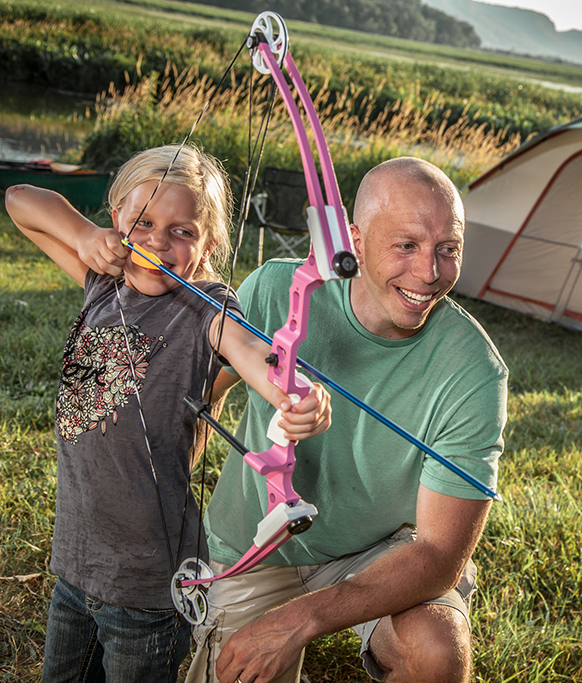 Launch your archery program and point people to Jesus
Reduce stress and increase community engagement
Make more memories with friends, family, and loved ones
Change your community and leave a lasting impact 
Appeal to everyone both inside and outside your church
We're driven by our mission and these success stories
"With only a few announcements at the end of church services, our first 2 classes were completely filled with almost 50 students!! Due to the outpouring of interest, we even added additional equipment mid-session. I cannot say enough about the Centershot program. From the in-person training to the wonderful curriculum, the quality equipment, and the overall support from the Centershot staff has been nothing short of SPECTACULAR!! Thank you Centershot for partnering with us in this journey." 
"In 2020 Centershot helped get us set up with a membership and instant access to their online library of training and discipleship materials. They helped us structure our archery club, cover safety protocols, and craft discipleship plans. Thanks to Centershot, we are now serving 20 + youth and children every week, our ministry team is more confident in archery instruction, and we are thrilled to have seen God grow a seed sown in faith into something powerful for His Kingdom." 
Frequently Asked Questions
How do I get started with Centershot?
Download our Centershot Ministry Planner which offers an excellent overview and shows you how to get started. It can be used to present Centershot to your pastor, leaders, or others interested.
What does it cost to start Centershot?
Your initial cost is a $250 membership fee. This provides you access to training, curriculum, and all the resources you need to build an effective archery program. Equipment and training costs are customized to meet your church's needs. The Centershot Ministry Planner will help you with these questions as well. 
How much is equipment and what do you recommend we buy?
As a Centershot member, you receive exclusive pricing for equipment, parts, and accessories. We do offer a New Member Starter Kit that includes everything you need to start your first archery league or event. 
How do I get Basic Archery Instructor (BAI) training and how much does it cost?
Training is a foundational element of any Centershot program. We utilize Centershot the same training protocol as National Archery in the Schools Program (NASP).
The NASP/Centershot Basic Archery Instructor (BAI) certification is a single-day class, lasting eight hours (usually on a Saturday from 8am-4pm). The cost is $80 per student. BAI courses are offered throughout the country.
Go to naspbai.org to register for a course in your area.
Contact Us
1537 Park Place, Suite 200A
Green Bay, WI 54304
Email: [email protected]
Questions about Centershot, call / text: (920) 268-1988